Christmas in Madrid: Top activities to enjoy in Madrid during the Christmas season 🎄
If you've chosen to experience Christmas season in Madrid in 2023-2024, you're in for a truly magical treat! Madrid comes alive and has so much to offer during the winter holiday season: from the dazzling Christmas lights to the renowned Madrid Christmas markets, engaging traditional lottery games, heartwarming Christmas concerts, and a delectable selection of local traditions and cuisine.
Let's see the best things to do in Madrid at Christmas.
1. Witness the spectacular Christmas lights in Madrid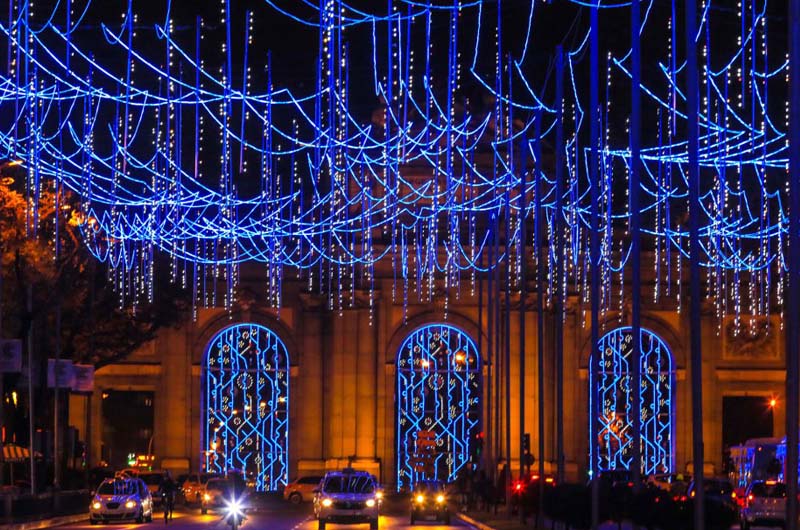 When the Christmas lights arrive in the capital, that's when the enchantment truly begins. Madrid becomes a canvas of mesmerizing colours, adorned with countless trees and a million twinkling lights. This year's Christmas illumination promises to be even more spectacular, with over 10 new special effect installations joining the traditional decorations.
The lighting ceremony is scheduled for November 23rd, and the city will continue to shine until the festive season ends on January 7th.
In Madrid, you can embark on a unique journey through the most beautifully lit streets by hopping aboard the special Naviluz bus. For approximately 8€, you can enjoy a one-hour ride on this Christmas bus, offering a splendid view from the top. Tickets are available online, ensuring a memorable holiday experience.
2. Visit a Christmas Market in Madrid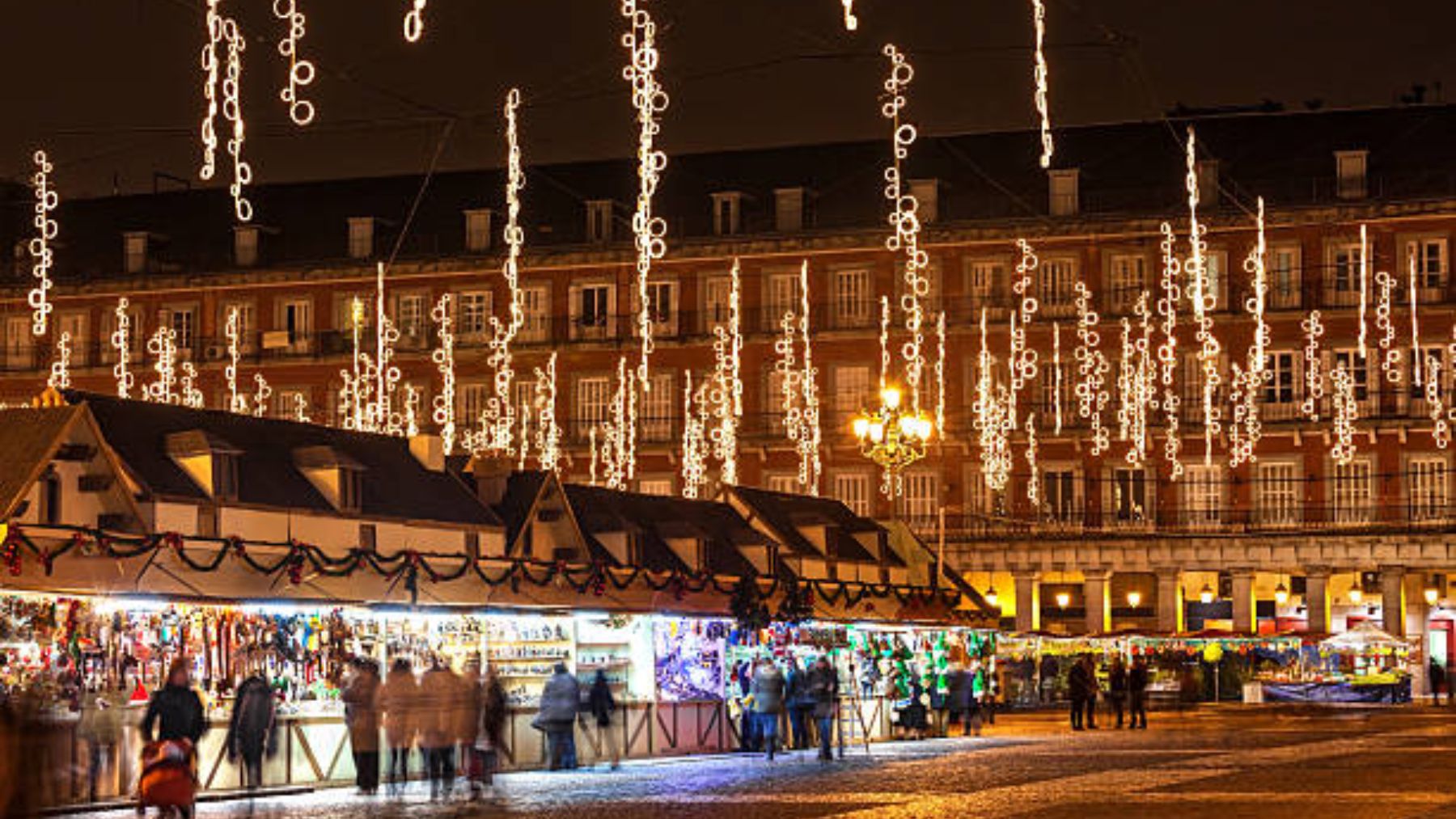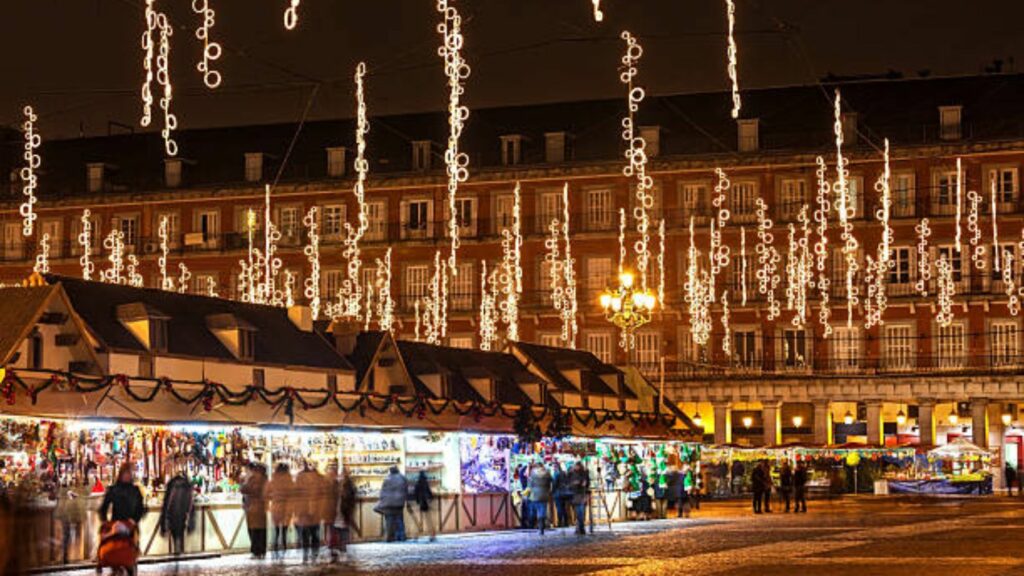 Like in many European cities, exploring one of the Christmas Markets in Madrid is also an absolute must during this season. There are many of them around the city center, with the most renowned ones being:
Madrid Christmas Market at Plaza Mayor
Madrid Cristmas Market Plaza de España
Madrid Christmas Market Juan Goytisolo
3. Visit a traditional Nativity scene in Madrid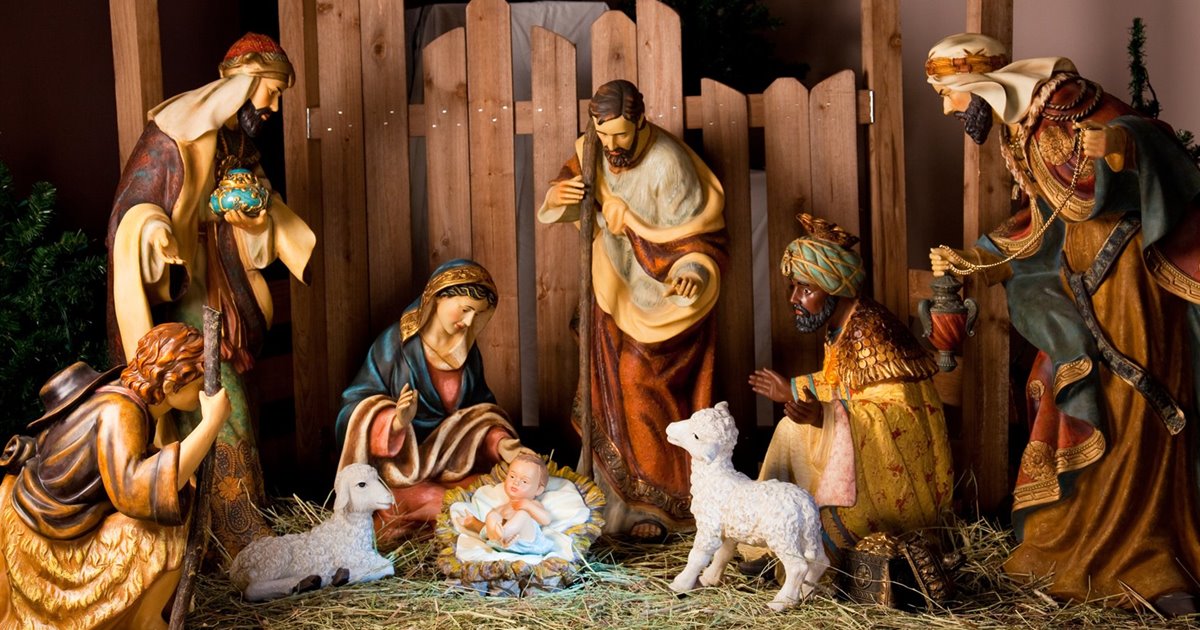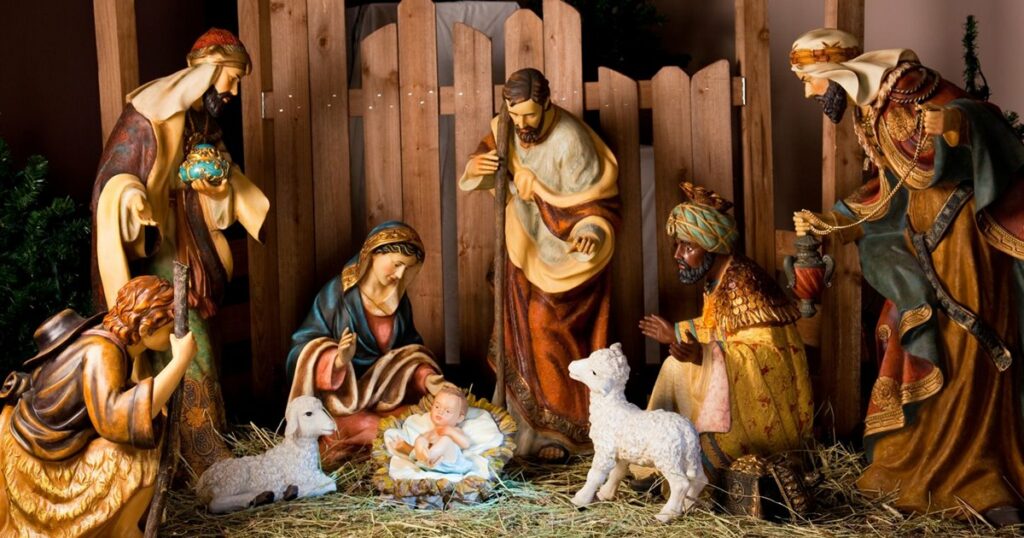 In Spain, small nativity scenes, known as 'Belén' (Bethlehem in English) have always been more common and popular in households and churches compared to Christmas trees.
During the Christmas festivities in Madrid, one of the best options is to visit the nativity scenes in various churches, and the best part is that most of these visits are free of charge. Each nativity scene is made with love and is often a work of art, with a unique theme and something special to offer every year.
Here are a few of our favorite nativity scenes in Madrid:
The Royal Palace Nativity scene: This is the biggest of all, coming from the 18th century Naples and once owned by the kings of Spain. Each year, a special entrance is set up for free access to the Madrid Royal Palace´s Nativity Scene.
City Hall Centro Centro Nativity Scene: A major attraction, this nativity scene is entirely handmade!
4. Try a local Christmas pastry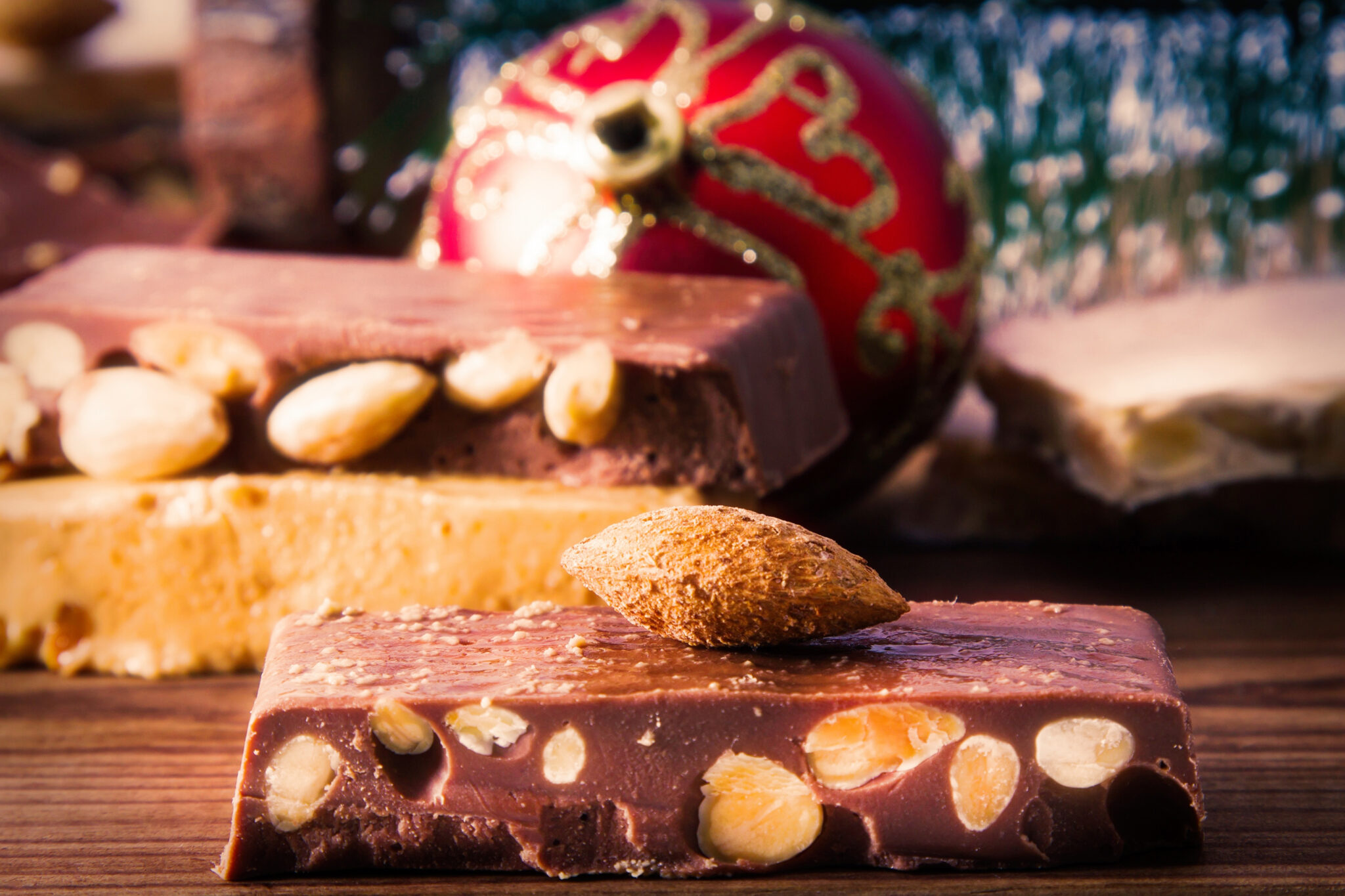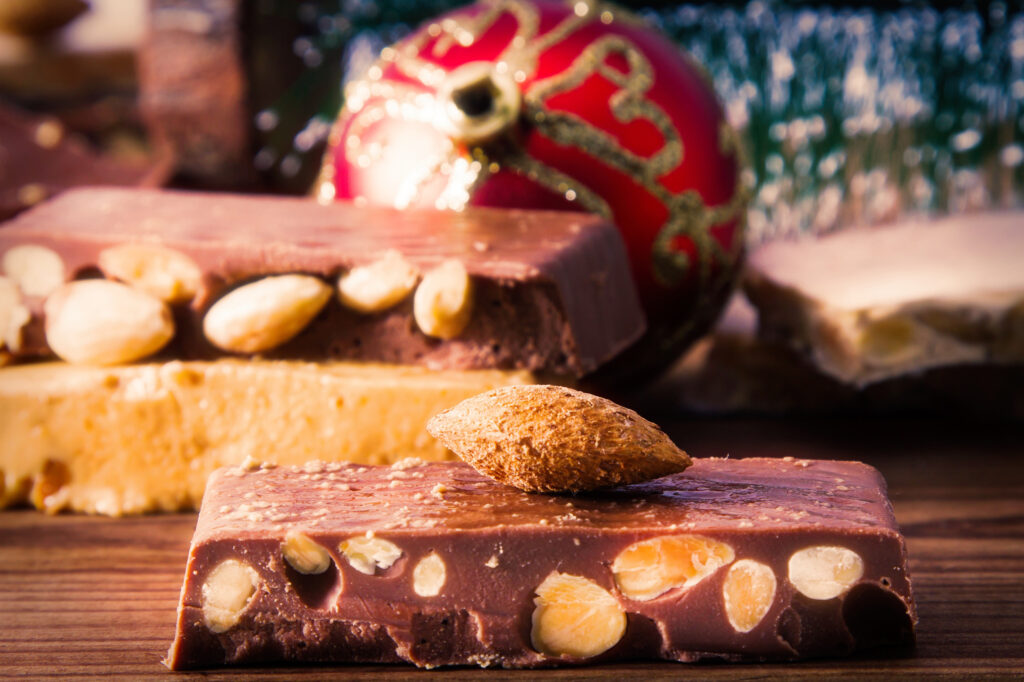 Eating delicious Spanish pastries during Christmas is an absolute necessity. In Spain, every region has its unique holiday sweets, but there are also those beloved "classics" that are a staple on every Christmas table. You can buy them in supermarkets, grocery stores, bars, restaurants, and from street vendors.
Turrón: This sweet treat, with Moorish origins, reigns as the king of the Spanish Christmas season. While there are many versions of turrón, the basic one is mainly made of almonds, honey, and egg.
Marzipan: another traditional Christmas pastry made of almonds, with the most famous being the Marzipan made in Toledo, with a history dating back to the 16th century.
Polvorón and Mantecado: These typical Spanish Christmas pastries have their origins in the Andalucia region.
Rosco de Vino: A kind of cookie that is characterized by its use of sweet wine and nuts. The powdered sugar on top gives it a "snowy" appearance.
Roscón de Reyes: It is a bagel-shaped and brioche-like sweet with usually sugar or nuts on the top and sometimes filled with cream. The tradition involves hiding a small figurine (baby Jesus, a bean, or a coin) inside. The person who discovers the hidden item is expected to host the Roscón next year.
When it comes to beverages, during the Christmas season in Madrid, you'll commonly find: Cava (Spanish Champagne), along with a variety of wines (with red wine being a popular choice), Anís (a local alcoholic drink flavoured with anise, which pairs wonderfully with Christmas pastries), sidra (apple cider).
5. Try Champagne (Cava) and Roskon at Hardy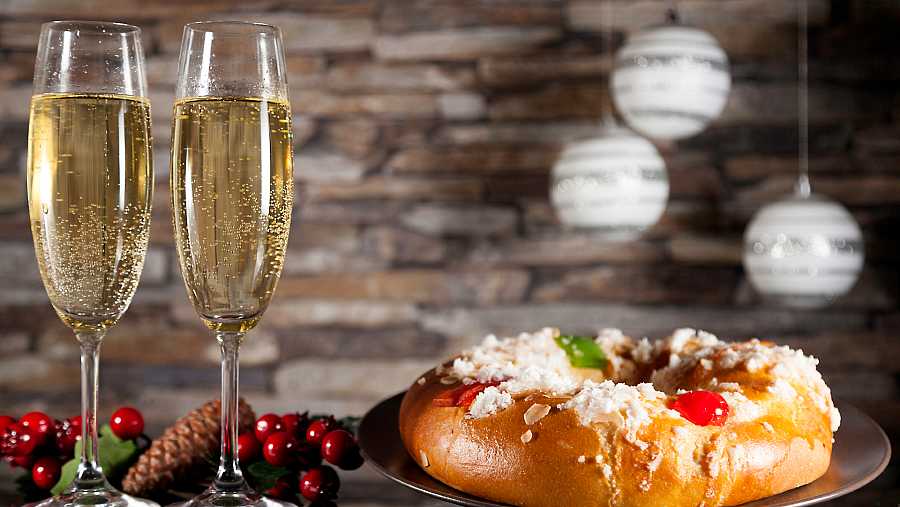 One of the best places to combine one of the above mentioned sweets and drinks is Hardy restaurants sophisticated shop. You can feel a real festive atmosphere if you pop in and try a delicious cava with their home-made roscón.
6. Play the famous Christmas lottery game "el Gordo"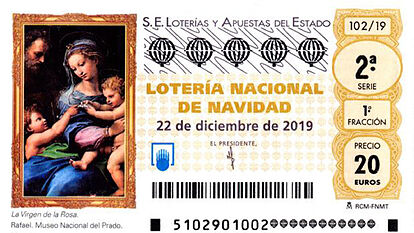 The 22nd of December is a significant event in Spain. At 9:00 am, the entire country tunes in to the radio or national TV channel to await the drawing of the "El Gordo" Christmas lottery numbers in a grand and highly anticipated ceremony. People often purchase these lottery tickets months in advance, and you'll witness long lines all around the city right up until the last minute before the drawing. This enthusiasm for lottery games is not surprising, as the average Spanish person spends around 600€ per year on various lottery games.
If you're fortunate enough to have the full winning number, the prize can be as much as 4 million euros. These lottery tickets can be found and purchased in kiosks, stores, bars, restaurants, and even the smallest village shops or local hairdressers.
The beauty of this tradition is that it's open to everyone, both Spanish residents and foreigners alike.
7. Visit the Prado Museum and enjoy a coffee after the tour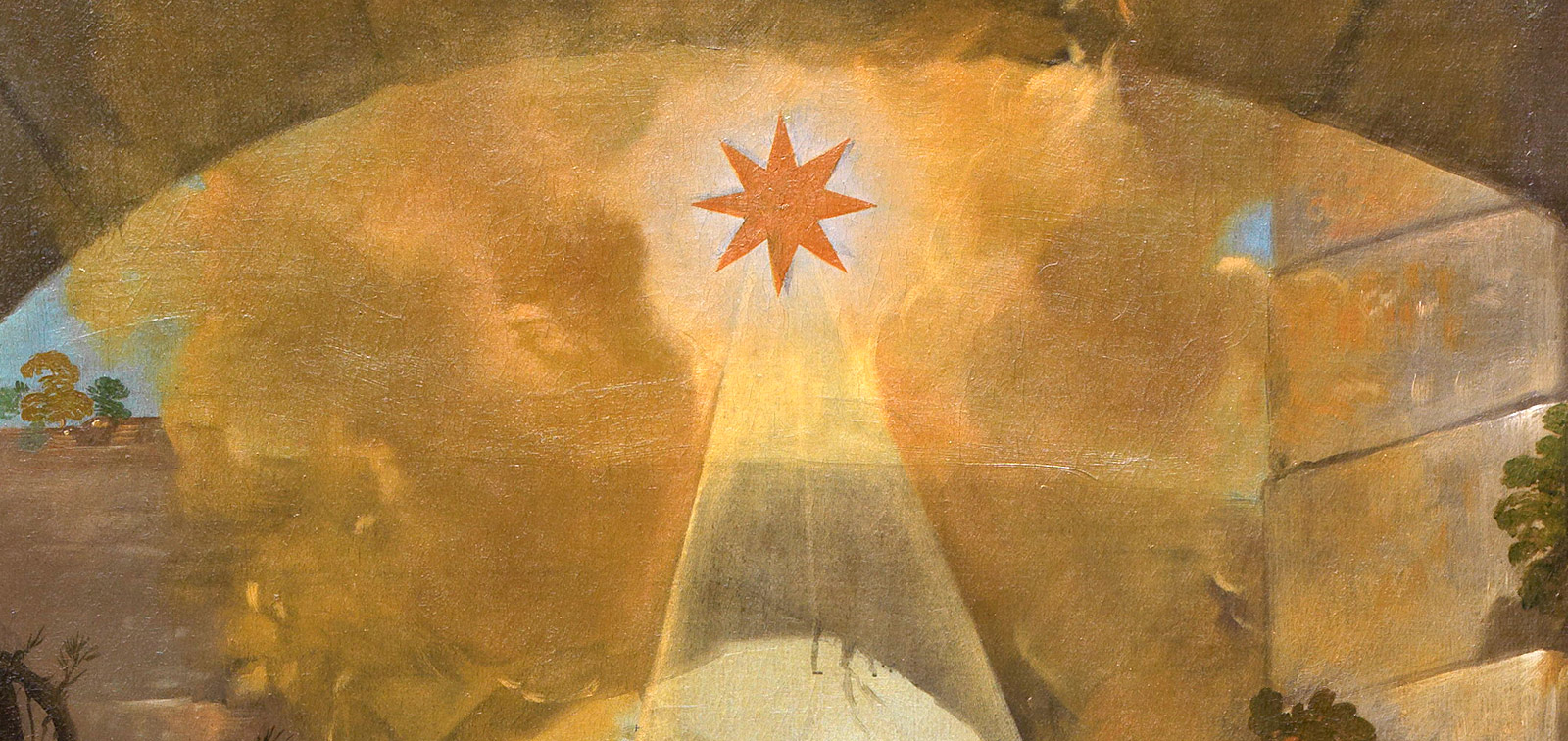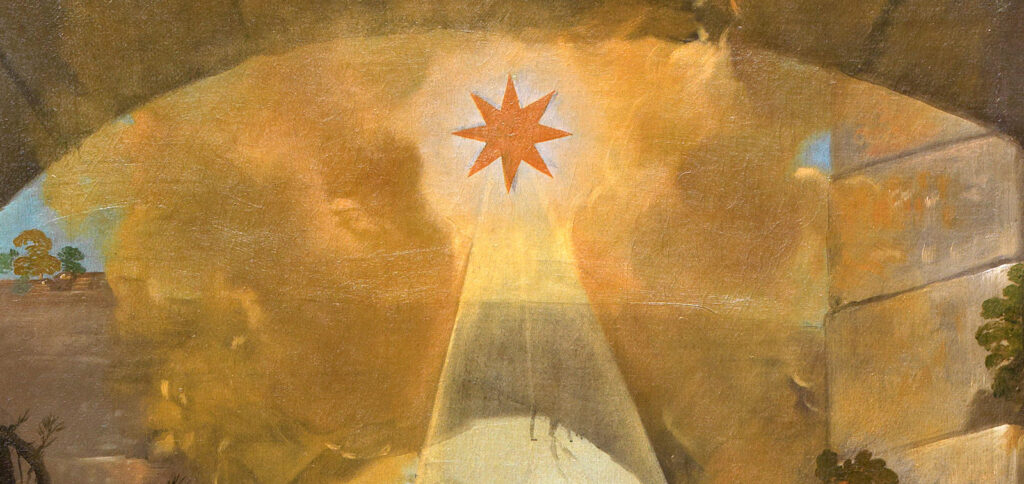 Madrid's main museum, the Prado, welcomes visitors every day during the Christmas season, with the exception of the afternoon of December 24th, all day on December 25th, the afternoon of the 31st, and all day on January 1st and 6th ). This makes it a great option for an activity in Madrid on Christmas day.
Enjoy its permanent collection, which includes paintings related to Christmas, such as El Greco's "Adoration of the Shepherds" and Velazquez's "Adoration of the Magi," among others. After your visit, savor a hot beverage at its delightful coffee shop.
If you're looking for a more personalized experience, we organize private tours throughout the Christmas period in this museum. See our museum tours here.
8. Witness the enchanting light show at the Madrid Botanical Garden
A must-do activity in Madrid during the Christmas season is to visit the Royal Botanical Garden, where you can experience 'La Naturaleza Encendida' – a breathtaking light and music show. Due to its high demand, you will need to buy the tickets well in advance to secure your spot for this enchanting event.
You can get your tickets here: https://naturalezaencendida.com/
9. Explore the city or a park on the afternoon of the 24th or on the 25th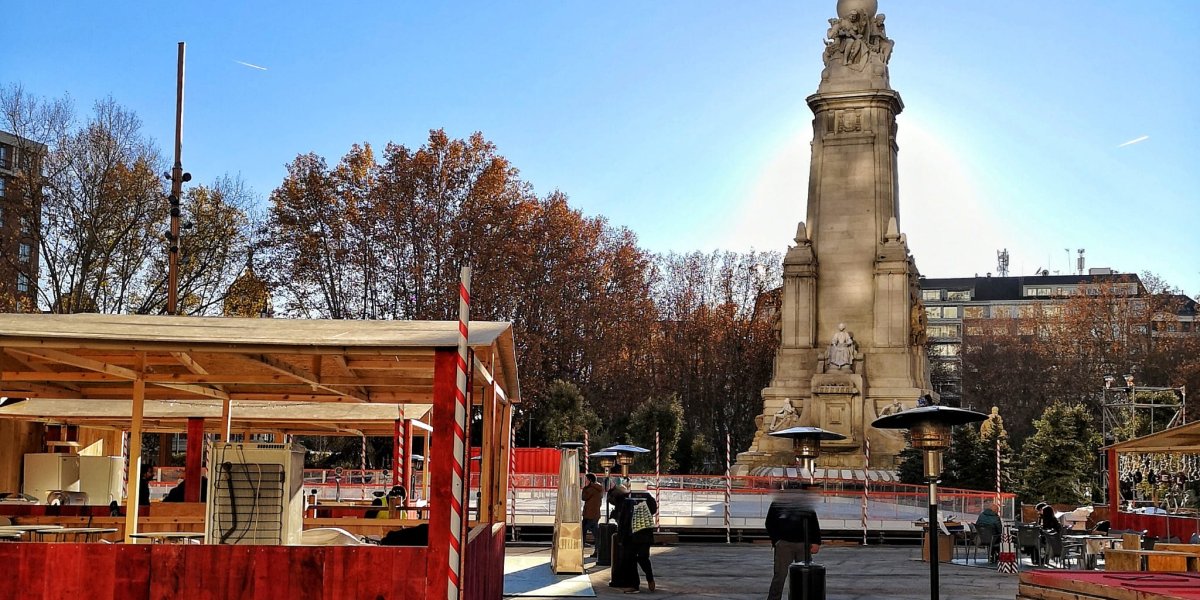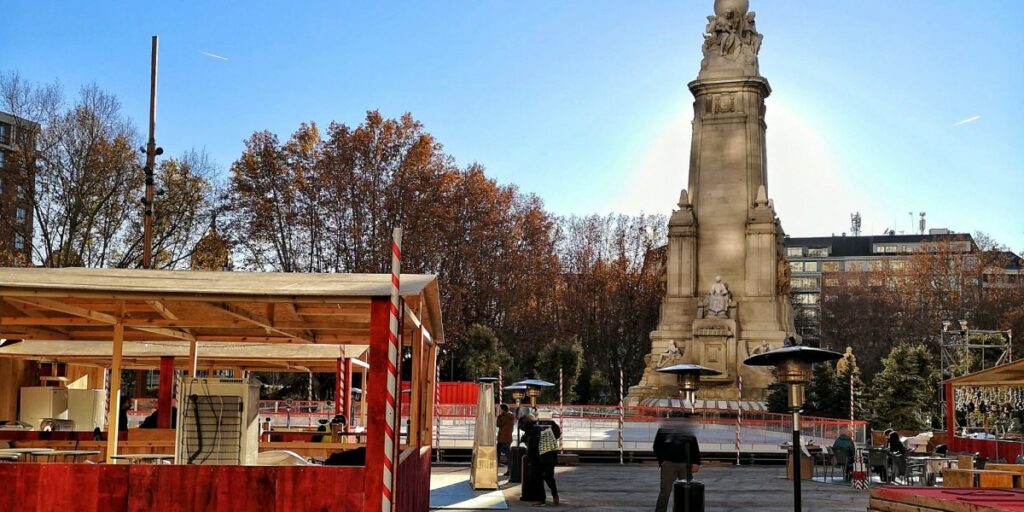 As Spanish families celebrate Christmas on the 24th afternoon and the 25th most things remain closed so it is a good opportunity to discover the city or one of its parks such as the Retiro park.
Other areas you can visit this day: La Latina, Las Letras neighborhood or the Royal Palace´s gardens.
You can book a private essential walking tour with us for your Madrid Christmas Holidays here.
10. Go Ice skating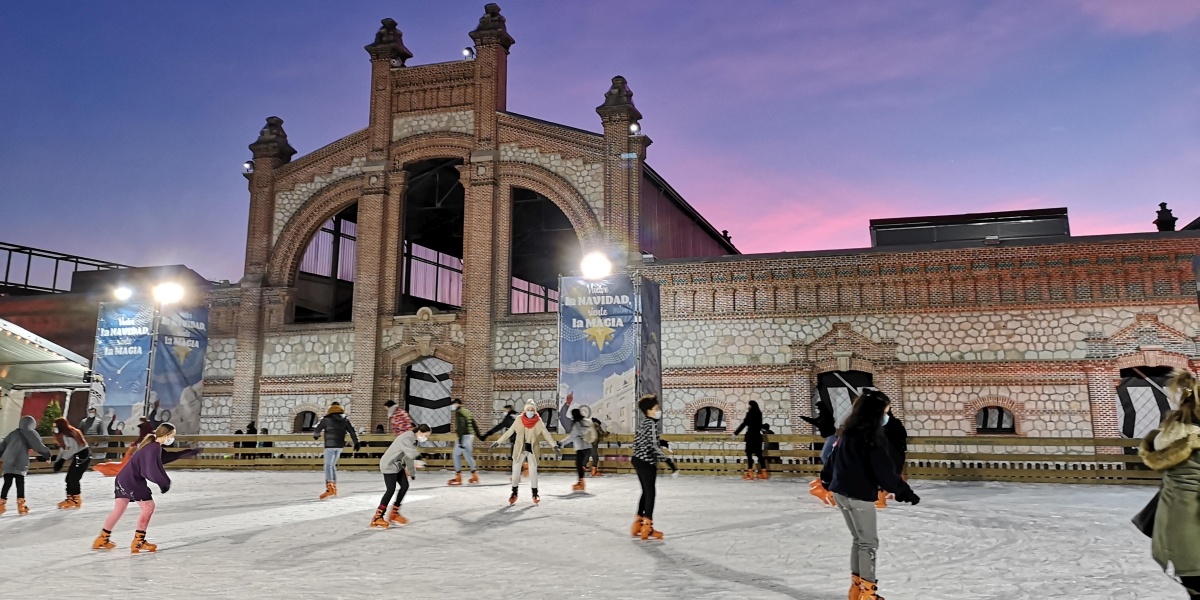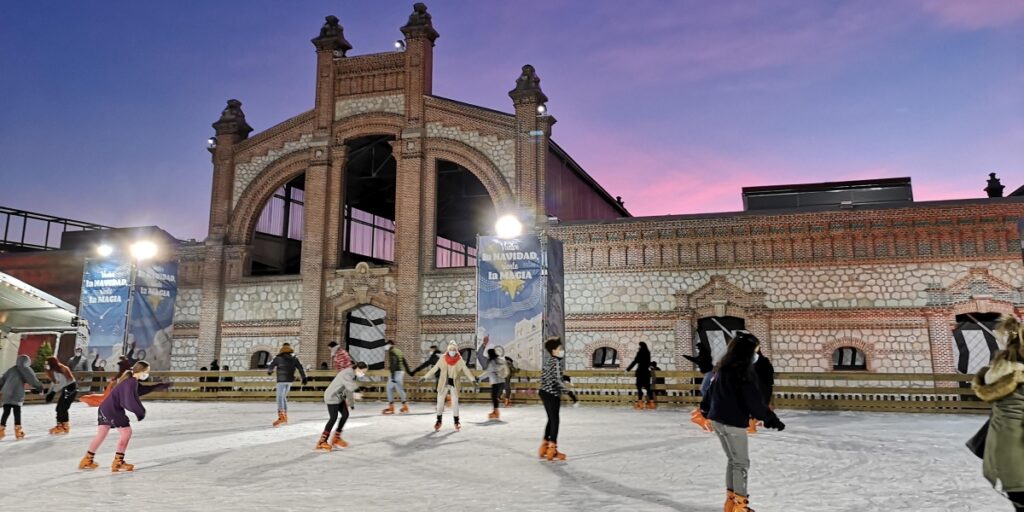 A really fun thing to do in Madrid during the Christmas holidays is ice skating! The best part is that you can do it solo, with friends, or with your family. Several ice-skating rinks pop up in the city in December, and they tend to get particularly busy in the evenings.
Our favourite ice skating places in Madrid are:
Plaza de España Ice Rink: This ice skating rink is located right next to the largest Christmas market in Madrid and the city's only authentic Christmas tree. It's open from 12 pm to 10 pm and costs approximately 10€.
Matadero Madrid: This is the largest ice skating rink in Madrid and provides a fantastic ice skating experience.
You can find ice rinks at Galería de Cristal, Palacio de Cibeles, and Plaza España.
Whether you're a seasoned skater or just looking for some festive fun, ice skating in Madrid is a delightful way to embrace the holiday spirit.
11. Visit the Warner amusement park, adorned for Christmas celebrations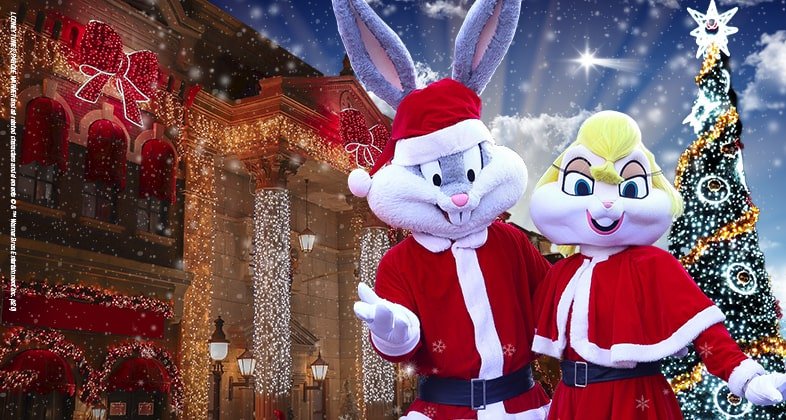 If you're traveling with kids during the Christmas holidays in Madrid, a visit to the city's amusement parks is a great idea as it truly comes alive with a magical atmosphere during this time of year.
The park is adorned with festive decorations, including lights, Christmas trees, snow, and captivating projections. Christmas shows and your favorite Looney Tunes characters will be there to greet you with warm hugs.
The Christmas season at Parque Warner typically begins on December 2nd and extends until after the Reyes feast on January 7th. It's worth noting that the park is generally open on weekends and holidays, so be sure to check their schedule before planning your visit: https://www.parquewarner.com/en/entradas-generales/single-ticket/select-day
12. Eat the traditional 12 grapes on New Year's Eve in Madrid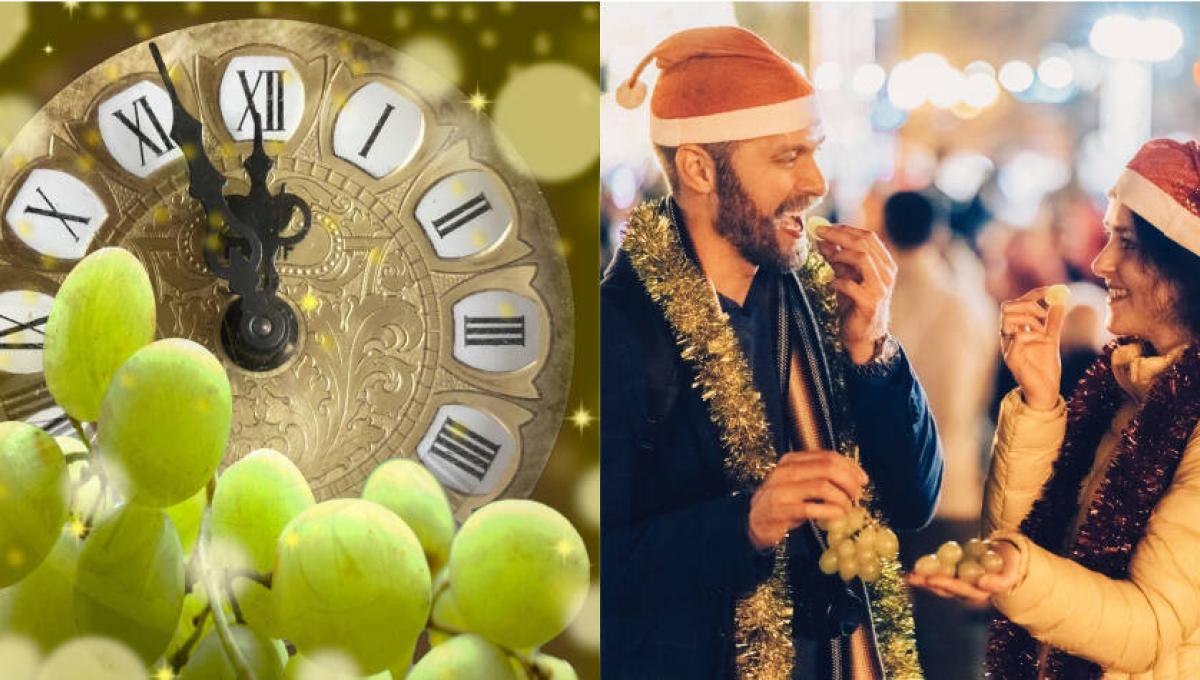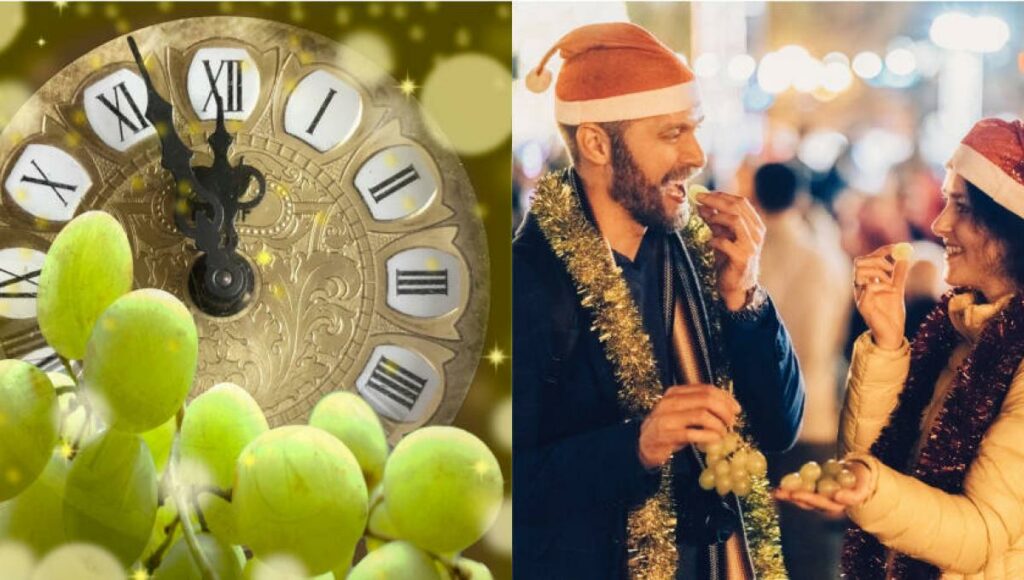 On New Year's Eve in Spain, you can take part in one of the country's most famous traditions! As the year ends, everyone grabs a small basket with 12 grapes inside (available at the supermarkets). When the clock strikes midnight and the 12 bells chime, the goal is to eat all 12 grapes within those 12 seconds. This tradition is believed to bring good luck for the coming year.
Many people take part in this grape-eating ritual wherever they happen to be at midnight, but it's especially popular at home or at the heart of this tradition: Puerta del Sol, where thousands of people gather to celebrate New Year's Eve together.
For an extra dose of tradition and good luck, it's a custom to wear red underwear. So remember, all you need for this unique Spanish New Year's tradition is 12 grapes and a pair of red underpants.
13. Traveling with Kids? Countless Family-Friendly Activities for Christmas in Madrid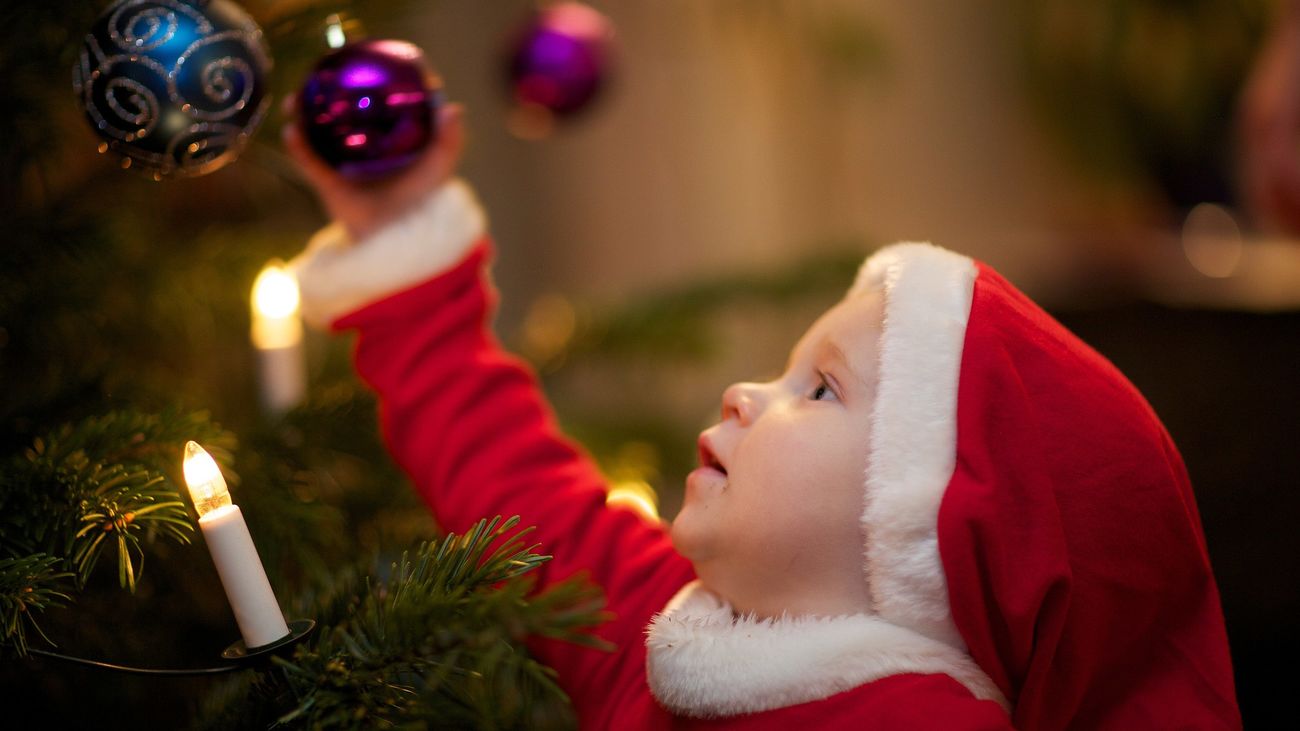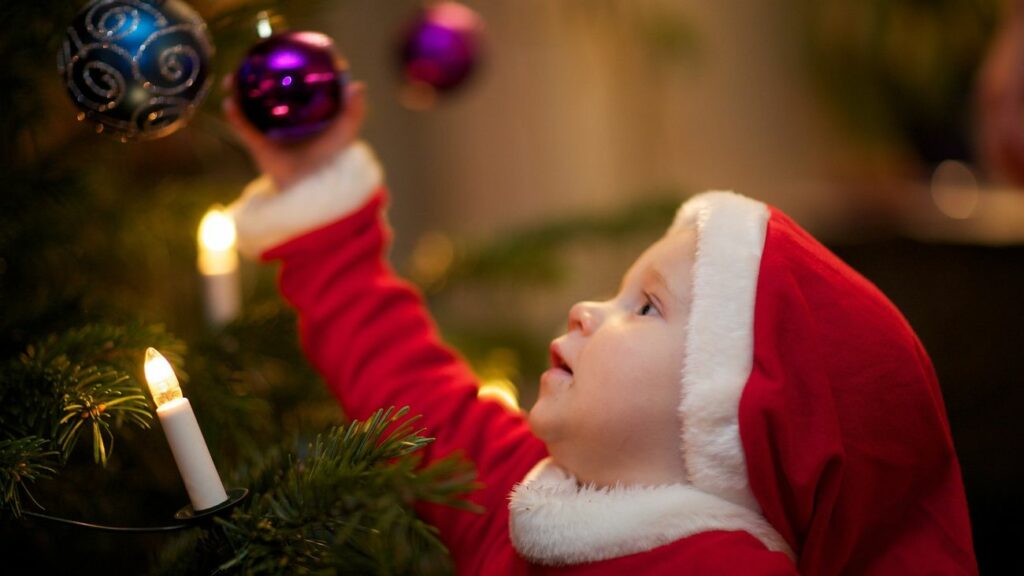 In addition to the previously listed choices, you can also engage in these family-friendly activities:
– Eat chocolate and churros at San Gines Chocolate store
– Attend the Christmas show at the Circo Price circus
– Explore the city amusement park which has a Christmas ambiance similar to Warner park
– Visit a museum (you can select one from our 'What to do in Madrid with Children' article)
– Experience the Cortilandia Christmas projection designed especially for children
14. Conclude the festive season in Madrid with the Three Kings' Parade on January 5th.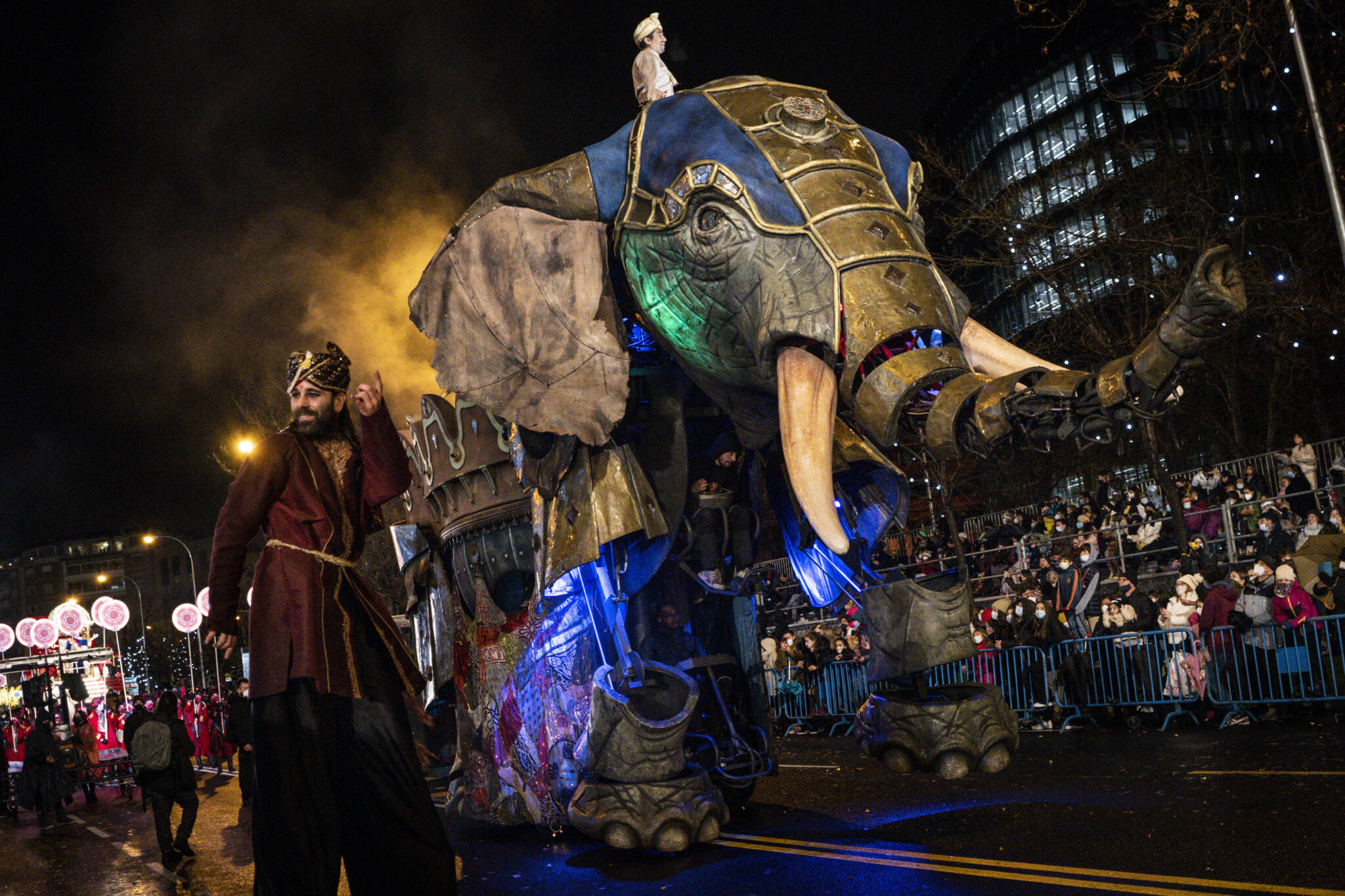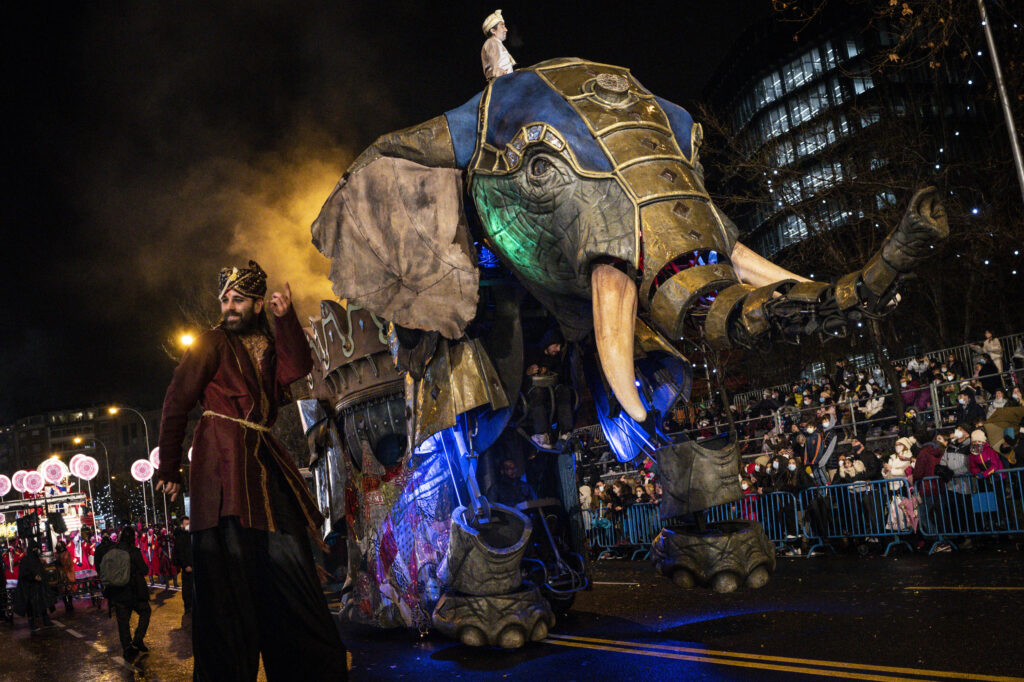 In Spain, children traditionally receive their Christmas presents on the morning of January 6th, a practice rooted in the cultural and historical significance of "Three Kings' Day" (Dia de los Reyes) celebrating the visit of the Three Wise Men to the baby Jesus. On the night of January 5th, Spanish children eagerly await the arrival of the Wise Men, who are believed to bring gifts on their camels.
Many cities, including Madrid, organize grand parades to welcome the 'Reyes', a highlight of the holiday season.
In Madrid, the Grand Parade begins at 6:30 p.m. and follows a consistent route through the city, creating a magical and festive atmosphere until around 9 p.m. The itinerary is always the same in Madrid: Paseo de Castellana-Plaza Colón-Paseo de Recoletos-Plaza de Cibeles.
It's a magical and festive event that adds to the excitement and wonder of the Christmas season in Spain.
From Madrid Expert we wish you Happy Holidays and Merry Christmas!🎄