Best three days in Madrid
When you have 3 days in Madrid you need to get your Madrid itinerary just right.
It is important to plan your Madrid trip carefully so you can discover all the "must-see places" such as museums, squares, and parks, and eat at the most popular restaurants while you also enjoy the city in a relaxed way ('rushing around' is not really a thing in Spain!). 
Follow our best What to do in Madrid for 3 days' suggestions and get the most out of your stay in the capital.
Day 1- The Classic Madrid itinerary 
Explore the essential places of the capital.
Itinerary: 
MADRID CITY TOUR+ROYAL PALACE+LUNCH+PLAZA DE ESPAÑA+SHOPPING+VIEWPOINT+FLAMENCO OR/AND COCKTAILS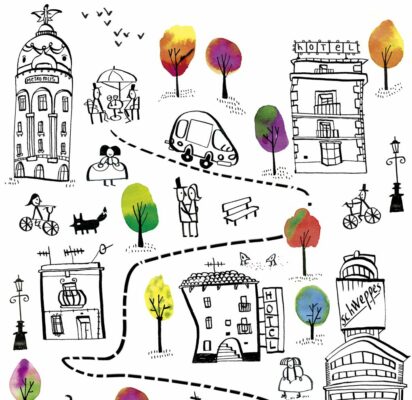 3 days in Madrid are certainly enough to see and do lots, so how about you start your day in a relaxing Madrid-like way?
Morning
Nothing like Spanish breakfast!
We won´t suggest any particular place because having breakfast out is a very usual thing for locals. At every corner of the city, you will find a local bar and, for sure, they serve breakfast. Normally, all bars and cafes open later, at around 9-10 am.
The most common breakfast in Madrid consists of orange juice, coffee with milk, and tostada con tomate (bread with a special tomato sauce and olive oil). You will often see a menu to get these 3 things together cheaper than separately.
Visit the old town of Madrid in 2-3 hours
Madrid has about 20 neighborhoods, but if you have 3 days in Madrid, we recommend starting your Madrid love story with the old part called the Madrid of the Hapsburgs (or Austrias), where you can find the most iconic places.
The spots are listed in linear order, so you can easily follow them and see the best of Madrid.
Start at Puerta del Sol (your goal is to arrive at the Royal Palace at the end).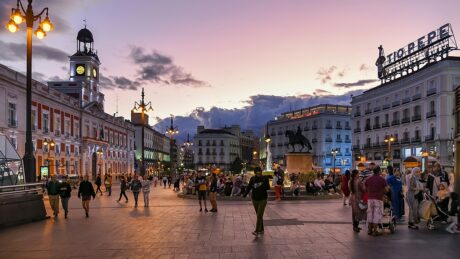 This might not be the most amazing square in the capital, but it is really the place to be. It is Spain's Kilometre Zero, the most popular meeting place for locals, where the heart of the city is surrounded by many pedestrian shopping streets.
What can be seen in Sol?
○ Madrid´s symbol is a small sculpture on one side of the semi-circular square. It represents a bear with a Strawberry tree, which is the coat of arms of Madrid.
○ The kilometer zero stone under the Headquarters of Madrid Autonomous community. Puerta del Sol marks the point from which the distances of the most important Spanish national roads are measured.
○ The sculpture of Charles the 3rd in the middle of the square (This king is called the best mayor of Madrid for all the good things he has done for the capital).
○ La Mallorquina, a pastry shop that was founded in 1894, and that is one of the locals' favourites (get a takeaway or enjoy some coffee on the first floor). Their specialty is the Napolitana. No, this is not a pizza but a delicious pain au chocolat.
Plaza Mayor and Calle Mayor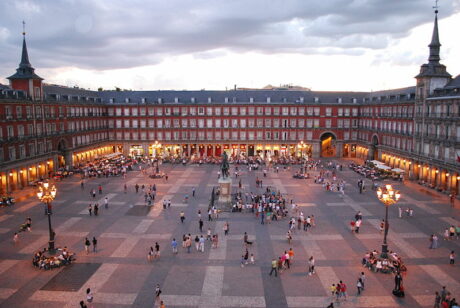 After visiting Puerta del Sol, you can take one of Madrid´s oldest commercial streets-Calle Mayor to arrive at Plaza Mayor (On your way you can stop at the famous hot chocolate café San Ginés). Plaza Mayor is one of the highlights of Madrid. This square, which might remind you of Piazza di San Marco in Venice, was originally a market square. It was founded in the 16th century and was used for bullfights, theater representations, the Spanish Inquisition, and much much more.
Walk around the area between Plaza Mayor and the Royal Palace
This is the oldest part, the so-called Hapsburg part of the city, where you will see many interesting places such as:
Botín: The oldest restaurant in the world ( maybe you wish to book your lunch here to enjoy this experience)
Arco de Cuchilleros: an emblematic arch, which is one of the entrances to Plaza Mayor
San Miguel Market: you can stop here for a drink or a tapa
Plaza de La Villa: the only medieval square in Madrid
The Almudena Cathedral: a relatively new building with a mix of neogothic and neoclassic styles
The Royal Palace: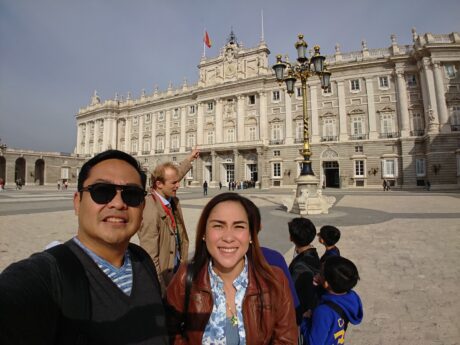 Finally, you will arrive at the Royal Palace of Madrid, which is one of the biggest palaces in Europe. You can visit it when there is no official ceremony for 12€. Inside, you will discover about 15 rooms, including the Throne room, the Hall of columns, the room where the Spanish crown is stored, and many more treasures (paintings, clocks, tapestry, mirrors, chandeliers, etc).
If you have 3 days in Madrid, the Royal Palace is a "must-see".
Discover the city with a private guided tour in Madrid.
If you wish to get the most out of your first day in Madrid, why not book a private tour? You will avoid having to check everything on Google and on  maps, as our guide will show you not only the most important places, but also some hidden gems adapted to your own tastes and interests!
With Madrid Expert, a private tour is an affordable option (e.g. a 3-hour private tour costs 155€/tour/group).
Lunch
After visiting the Royal Palace, you can have lunch in one of the places around it, like the Palace´s square -Plaza de Oriente, Opera square, or Santiago street.
Recommendations for lunch:
○ La Bola – one of the most traditional places for some typical Madrileño lunch, where the specialty is the Cocido. As it is very small, you might need to book it in advance
○ The Oriente Café, a cozy classic restaurant mainly with salads or sandwiches
○ Any of the fast tapas restaurants on Plaza de Ramales
○ The vegetarian restaurant at Santiago street 9
Afternoon
What else to see in Madrid in 3 days?
Gardens and Cervantes Monument
Continue your way from the Palace to its gardens (Sabatini gardens) and continue to the newly renovated Plaza España.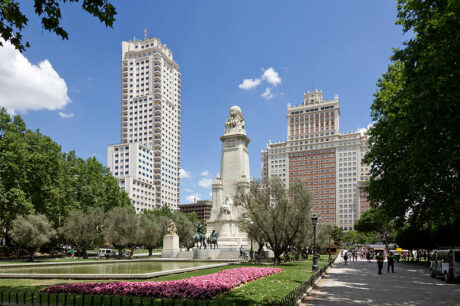 At Plaza España, you can admire :
○ the biggest monument dedicated to the most important Spanish writer Cervantes, and his Don Quijote. Don´t forget to touch the donkey's tail.
○ you can also see two historical buildings from the 50's, when skyscrapers became fashionable in Madrid (Madrid Tower and Spain Building).
Visit a viewpoint (at Hotel Riu or at Debod temple)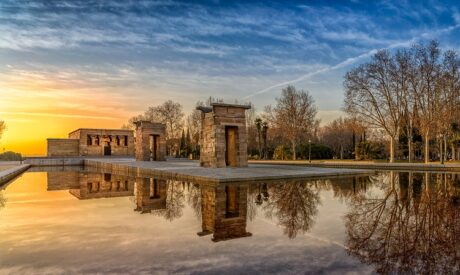 Once you are in Plaza España, you can choose between 2 great viewpoints.
Hotel Riu (on the top of the previously mentioned 'Spain Building' and its Madrid sky bar (it is considered the best viewpoint in the city because of its crystal floor) or, continue until Templo de Debod (old Egyptian temple) from where you can get a nice view of the Royal Palace, especially at sunset.
Shopping
One of Madrid´s biggest avenues, the so-called Madrid´s Broadway 'Gran vía' starts at Plaza España. It is a perfect place for medium-level shopping if you have 3 days in Madrid. There are also some more unusual shops in its surroundings, such as Pez or Fuencarral street (Calle Pez, Calle Fuencarral). If you look for more sophisticated luxury shopping, then, the Salamanca neighborhood is the place to be!
Flamenco
End your day with Flamenco – We would recommend Las Tablas, Cardamomo, or El Corral de la Morería.
After or instead of flamenco
Take a cocktail at one of Madrid´s fantastic cocktail clubs, like 1862 DRY bar or Quinto Elemento sky bar.  Check out our evening recommendations here in What to do in Madrid at night.
Day 2: Madrid art museum+ Parks+ soccer game or fine dining
Morning
Start your day with culture and visit Spain and one of the world´s most important museums- The Prado (even if you are not a big museum fan).
The Prado Museum is very special as it is basically Spain´s Royal Collection. If you have 3 days in Madrid, visiting the Prado is a must.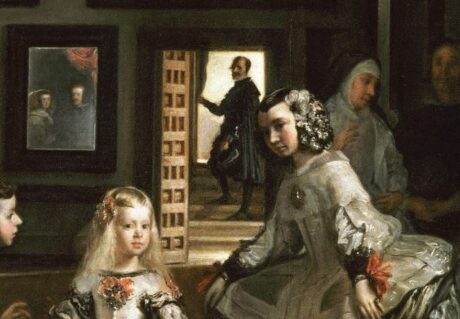 It holds one of the best paintings made by some of the most important classical artists, such as Velazquez, Tiziano, Rubens, and El Greco. Discover Bosch´s incredible world of fears, fantasies, and folklore, or check out the first copy ever of Leonardo´s Mona Lisa painted at the same time as the original was done. 
With Madrid Expert, save time, avoid queuing, and enter directly into the museum to see the BEST of it, with one of our expert guides. The Prado Museum private tour costs 145€ + tickets.
Lunch
After the Prado, you can have lunch in the museum´s restaurant or in one of the places between the museum and the park.
Recommendations close to the Prado: Café Murillo, La Mucca del Prado, Cervecería Cervantes.
If you wish to have a very special lunch, you can book at the historical Ritz´s garden restaurant.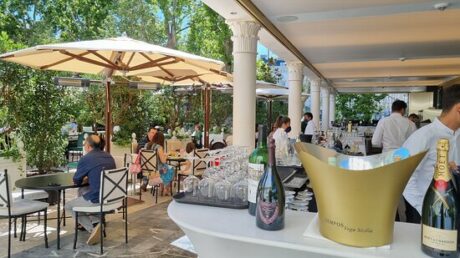 Afternoon
Visit the Retiro Park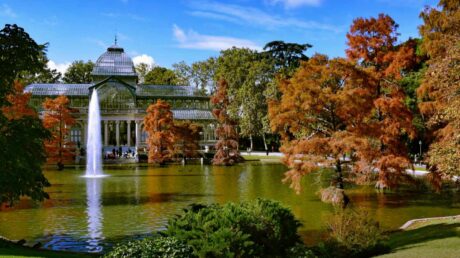 After the museum, you can easily continue to Madrid´s most beautiful Royal Gardens – Retiro Park. On the way, admire the San Jeronimo church (the only gothic church in Madrid).
After the park, you can continue to see Alcala Gate (the first Arc de Triumph after the Romans in Europe) and the luxury Salamanca neighborhood.
Evening: 
Go to a local soccer game (a truly local experience!)
or
Dinner in one of the popular bar streets and feel the energy of the city.
These are the most fashionable dining streets with an incredible offer :
○ Jorge Juan street for some high-standard dining (Amazónico, La bien aparecida, El Paraguas restaurant).
○ Cava Baja and Cava Alta in La Latina district for tapas (Taberna Txacolí, Casa Lucio, or Posada de La villa for roasted lamb).
○ Argumosa street in Lavapies neighborhood (typical Spanish taverns and Indian food places, kind of an underground atmosphere).
○ Espíritu Santo and Pez street in Malasaña or Libertad street in Chueca– modern and fashionable tapas bars, and cozy little vintage restaurants.
○ Calle Ponzano: local tapas street par excellance
Day 3: Visit a UNESCO city close to Madrid or stay in Madrid and discover its authentic neighborhoods
On the third day of your What to do in Madrid for 3 days itinerary, we would like to give you two options:
Option 1 Go on a (half) day trip to Toledo. Option 2. Stay in Madrid.
Option 1, 
A day trip outside Madrid on the high-speed train to Toledo or any other important UNESCO city.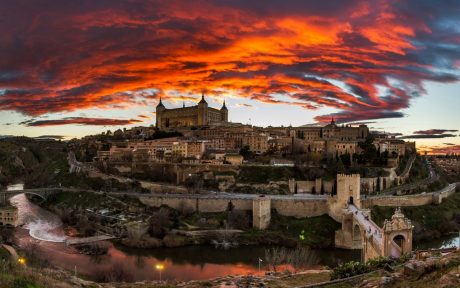 If you have 3 days in Madrid, we would definitely recommend visiting one of the lovely UNESCO places near the capital. 
Toledo is just a stone's throw away from Madrid! You can get on the morning high-speed train and get there in no more than 33 minutes. 
Toledo is one of the oldest and most beautiful cities in Spain, full of ancient monuments and enchanting churches, where you will have the impression of walking in the Middle Ages. It houses an incredible gothic Cathedral from the 12th century, many works by El Greco, a torture Museum, 2 ancient Synagogues, and much more.
After lunch, take a train back to Madrid.
Afternoon
Once in Madrid, you can visit Guernica at the Reina Sofia Museum (as it is a 5-minute walk from the train station). Then you can continue the evening as described at Option 2.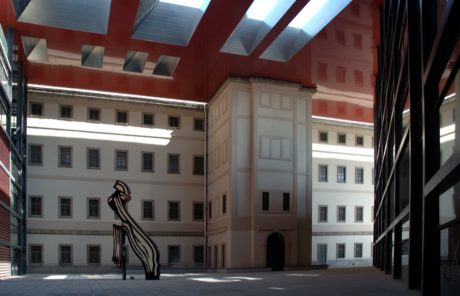 Option 2,
Morning
If you decide to stay in Madrid, you can discover one of its traditional neighborhoods, such as La Latina. If it is a Sunday, then, you are very lucky as the biggest Spanish flea market, El Rastro is held here every Sunday morning!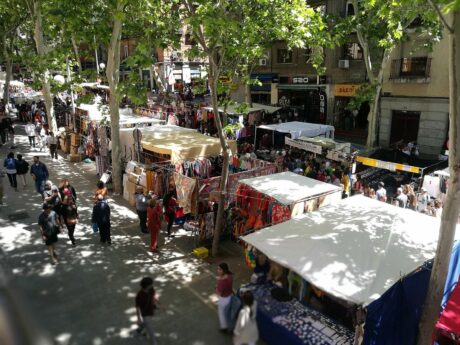 Part of the La Latina was the old Moore neighborhood, which still preserved its structure with its lovely squares such as Plaza de La Paja, Plaza de los Carros, or Plaza de Cascorro.
If you feel like learning more about the Origins of Madrid, and its history, check out the Museum of San Isidro. You will also find out about the patron saint of Madrid (Saint Isidore the Farmer) and the miracles he has performed.
Lunch
It is really a must to get a drink and a tapa on its busiest street: Cava Baja.
Recommendations:
○ Los Huevos de Lucio : One of the most popular taverns for local food
○ La Perejila: Traditional tapas bar
○ Taberna Txacolina: Great place for pintxos
Afternoon
After lunch, you can choose one of Madrid´s extraordinary museums like The Reina Sofia Museums with Picasso and Dalí's works of art, or the Thyssen-Bornemisza museum, which used to hold the second-best private collection in the world!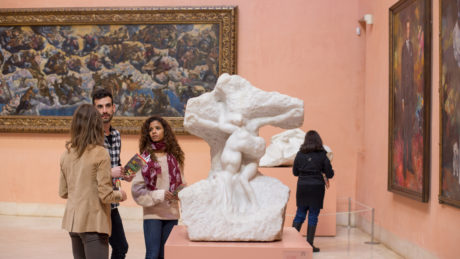 Other interesting museums:
○ Fun and interactive small places: the Ikono gallery, the Museum of illusions
○ History and science: the National Archaeological Museum, the Museum of Natural Sciences
○ Hidden gem palace-like museums: Museo Cerralbo, Museo Sorolla, Museo Lazaro Galeano.
Evening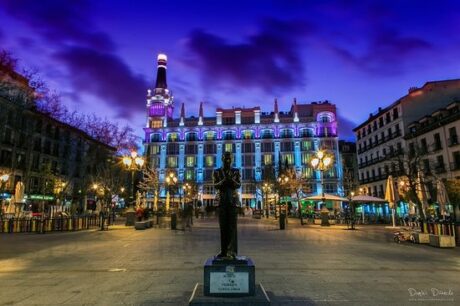 In the evening, stroll around the Literature neighborhood (Barrio de las Letras) and:
○ find the house where the Spanish genius and writer Cervantes lived
○ admire Santa Ana square and check out the Cervecería Alemana (Hemingway's favorite drinking place in the capital)
○ try the bull tail at Casa Alberto
End your 3 day Madrid itinerary with a dinner at the wonderful viewpoint on the Circulo de Bellas Artes Rooftop (Azotea) (booking is required).
Hope you´ve enjoyed our What to do in Madrid for 3 days article.