Madrid is one of the greenest capitals in the world, with more than 300.000 trees and 21.000 has. of parks, where the protection and conservation of these public spaces was always very important. We will help you to find your favorite park in Madrid!
PART 1
RETIRO PARK MADRID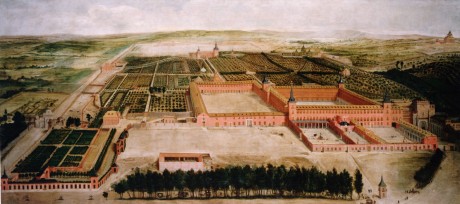 The Retiro Park in 1637
This is probably the most well-known and famous park, which is placed in the heart of the capital. It is often called "lungs of the city" and in 1935 it was declared as a historical and artistic garden.
Location: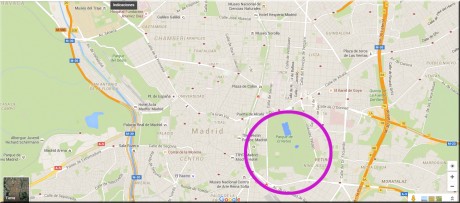 Size: 120 has.
Trees: Madrid oldest tree is here! Will you find it? Beside it you can find: platan-trees, horse-chestnuts, White and Japanese firs, fig-trees, olive-trees, arbutus, eucalyptus, hazels, cypresses, pine-trees, gingkos, trees of heaven, willows, oaks, lindens, ash-trees, Japonese pagoda-trees, cedars, etc.
What to see in the Retiro park: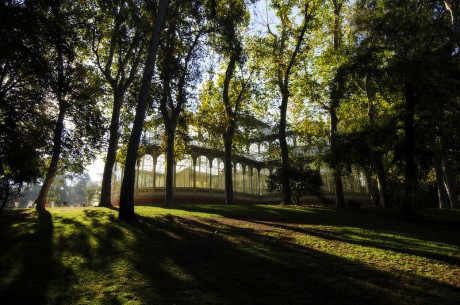 Cristal Palace and Velazquez Palace:
Both of them were built at the end of the 19th century by R. Velazquez Bosco. Today, in these wonderful buildings, you can contemplate exhibitions of contemporary art, organized by the Reina Sofia Museum of Modern Art.
Alcachofa fountain (Artichoke fountain) designed by Ventura Rodriguez in 1781.
A statue to a fallen angel: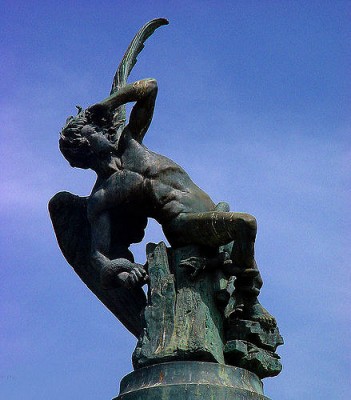 It stands 666 meters above sea level and it is one of the very few statues dedicated to the devil.
The rests of Madrid's ancient zoo:
It was called "The house of the beasts" and it existed until it was brought to its actual place in 1972. Part of this ancient zoo today has been transformed into a modern library, but you can still see some of its rests, like the Pit of the monkeys (but without monkeys).
A garden in a garden, which is dedicated to Cecilio Rodriguez:  
Here you can find a wonderful rose garden, a small pond and some fruit trees, with peacocks walking around (Be careful! They are sometimes watching you from the trees!) This place is ideal for a romantic picnic!
A big pond: Here you can rent a small boat and enjoy the park sunbathe while admiring the monument to the king Alfonso XII. This is definitively the symbol of the park.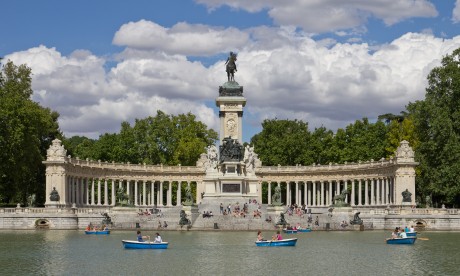 Casa de Vacas: (Cows house)-today you can see temporary exhibitions here, but before it was a place, where Madrid citizens assisted for a glass of fresh milk.
Alcalá gate: It is placed in front of the Retiro park, and was built at the time of Charles III in a Neo-Classical style and it was supposed to be the main gate of the city. In 1778 it was the first triumphal arch built in Europe after the fall of the Roman Empire (the Arch de Triomphe in Paris was built in 1836).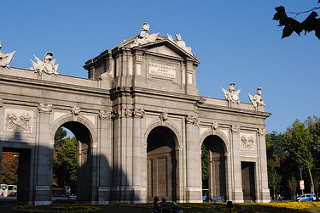 Throughout the park you can find plenty of interesting sculptures dedicated mainly to Spanish writers and historical people.
Where to eat:
Restaurants close to retiro park
In the park there are several basic restaurants with terraces if you need to eat something quickly. There are also some small stands, where you can buy ice-cream, drinks, nuts etc.
If you wish to finish your park tour with an excellent meal you can do it in one of the restaurants which surround the main entrance (at the Square of Independence-Alcala Gate).
Ramses: Nice and trendy with views to the Alcala Gate.
$$
Horsher: One of the most elegant and traditional restaurants in the city.
$$$$
http://restaurantehorcher.com/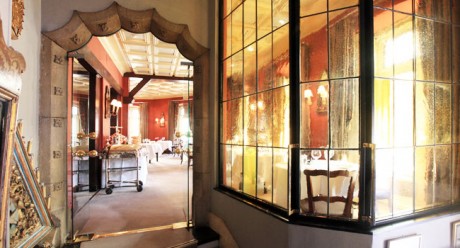 You have great restaurants at the other side of the park, where locals go.
Arzabal: Traditional and contemporary at the same time, pure northern Spain cuisine.
$$$
La castela: very traditional and fauvorite tabern of the Madrid people.
Try their vermouth and tapas. Be careful, it can be extremely loudy here.
$$
http://restaurantelacastela.com/